Resilience and scaling down in the face of decline (Dougald Hine discussion, part 2)
With hindsight, it was surprising that the first part of my discussion with Dougald Hine kept to a disciplined track for as long as it did. Perhaps it was the novelty of having the recorder turned on that kept the forces of entropy in check. But entropy will out.
On one level the discussion that follows has almost nothing to do with learning. On another, it has everything to do with learning. Part of the longer discussion we've been exploring concerns how you pull back the lens on your learning context, and what happens when you do? Do you develop a meta-awareness of your own learning process and a critical assessment of the systems in which it is embedded? Or is the meta-level not higher, but just different. I'm not sure now whether the discussion is profoundly important or just by the bye.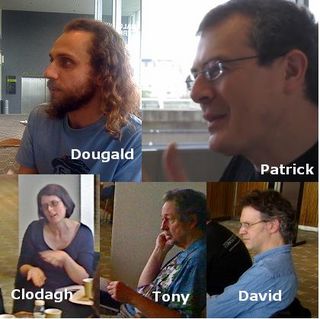 But here we start talking about scaling down and becoming more self-reliant. To what degree is this a response to a perceived, or real, decline in the fabric of our lives and infrastucture of our society. (Remember, I kicked off this thread 15 months ago talking about learning in the context of "progressive austerity" — a term that has since lost whatever charm it might once have had).
A reminder that you can also read Dougald's own take on the same discussion, including an audio edit. Here we pick up the discussion where Dougald Hine has just been talking about the complacency of Higher Education in the face of a potential "scaling down" in the institutional infrastructure you need to organise rewarding learning relationships.
Tony Hall: Is there a name for the process of the scaling down? Because I am thinking of Illich again and Tools for Conviviality, which influenced me incredibly in terms of giving me the confidence to say the only tool I need to work with in education is my camera. And that is what I have always done — because everybody, more or less, has a camera. So you could just use that as your educational tool — you need nothing else in a way. Is that whole sense of "scaling down" is that a Dark Mountain thing, a Collapsonomics thing?
Dougald Hine (DH): The Collapsonomics stuff I have been writing recently deals with the sense that, in some significant ways, the middle class existence is being eroded. We are living through the immiseration of the bourgeoisie.
Continue reading "Resilience and scaling down in the face of decline (Dougald Hine discussion, part 2)"