Support Longplayer Live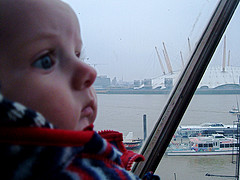 To the Trinity Buoy Wharf lighthouse today for the annual visit to the Longplayer 1,000 year composition by Jem Finer/Artangel. In 02006's post I commented that some of the things we had hoped might happen that year had not come to pass. In this year's photo, evidence that patience was rewarded on at least one count.
The guy in the photo will have his name engraved on bowl number 1.01 in next September's live performance of Longplayer, and I believe I was also the first person to sponsor a (different) bowl and reserve a ticket at the performance. Please consider doing the same via this page. While you're at it,if you're in or near London, you may also want to join the Long Now London meetup group — it's free. Wishing you all the best for 02009.
Posted by David Jennings in section(s) Long Now on 31 December 02008 | TrackBack