The Whys and Wherefores of Creativity and Sharing: Review of Making is Connecting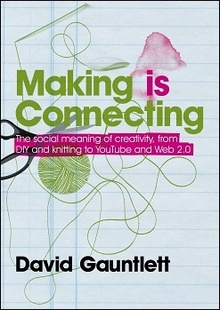 One of the beauties of David Gauntlett's Making is Connecting
is the way it develops a fundamentally simple idea with successive layers of richness and power. The cover captures the kernel of the book: the core thesis that making (with hands and brain, resourcefully) is connecting (in terms of relationships, meaning, learning); the context that extends from scissors and thread to YouTube; and the ethos of the personal, handmade artefact captured in the stylish smudge that subverts the sleek sans-serif typeface.
One of the perils of writing anything related to Web 2.0 over the last four years is being painted into a corner opposite Andrew Keen and his Cult of the Amateur
broadside against the threats to the hieratic hierarchy of professional power. In this case I think the comparison is justified, because Making is Connecting is everything that The Cult of the Amateur was not. Where Keen reductively polarises and thins out the issues he addresses, Gauntlett's treatment is embodied, his points rounded out with substance and complexity. Where Keen uses "amateur" as term of haughty derision, Gauntlett gives us back a fleshed out sense of the word, capturing the care and dedication that come when people make things for love, not money.
Regular readers of this blog with good memories may remember that David Gauntlett is a friend of mine. I interviewed him a year ago when he was writing Making is Connecting. (On the same morning, as well as interviewing me for this blog, David also interviewed me about my blogging on another site for his book — you may be thinking I only review books I've been interviewed for, but I promise that's not true.)
In that 2010 interview, I complimented David on his plain speaking style and how he makes his ideas accessible. That holds true throughout Making is Connecting: it's rare for a book to cite Adorno and Horkheimer while still remaining readable, but this one does. Of Ivan Illich — one of David Gauntlett's guiding lights, along with the likes of William Morris, John Ruskin and Richard Sennett — he says "his writing feels earthy, and engaged with real things." The same could be said of David himself, and I confess I envy him in this.
Continue reading "The Whys and Wherefores of Creativity and Sharing: Review of Making is Connecting"