Agile Learning meetups in London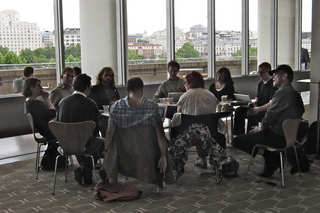 Having taken a few soundings — and please complete our short Agile Learning survey if you haven't already, as we're keen to get a broader input — the first meetups are under way in London. In fact, this isn't so much a new activity, as an evolution and gentle morphing of an existing one. More on that in a moment, but first the key points:
Self-organised discussions on the themes of self-organised, flexible, sometimes disruptive (vis-a-vis established habits and institutions) approaches to learning
A mix of invited guests, interviews, group problem-solving, themed chats — maximum dialogue and minimum structure
Every Wednesday morning, 10.30-12.30 (the first 30-45 minutes is usually the most informal, with introductions and establishing a shared base)
Level 5 of the Royal Festival Hall, London, SE1 8XX (free wi-fi available)
Free, open and hopefully welcoming to all
Details and sign up (not mandatory) are on Meetup.com, including tomorrow's.
This series of meetups began a year ago as the "unplugged" offshoot of the School of Everything, with Dougald Hine inviting a series of fascinating guests. Tony Hall has been co-host, and the meetings have also come under the umbrella of The Learning Co-op. For a while I considered setting up a separate strand of meetings under the Agile Learning banner, but the momentum and energy favour collaboration at the moment. As you can tell, these arrangements are very lightweight and flexible, so new paths may emerge, fork or diverge further on.
As a form of collective self-discipline, we set aside two meetings this month to reflect on the meetups so far and to plan directions for the future. The photo above (by Tony Hall) is of the first of these sessions, three weeks ago. Given the voluntary, self-selecting attendance at the meeting, I guess it was inevitable that most people had mostly positive things to say about the meetups they'd attended. We talked about practising what we preach in terms of self-organised learning groups. Fred Garnett referred to Mike Wesch's work on organising groups according to their learning purposes (I think this link refers to that) and the WEA's Learning Revolution project was also mentioned.
Continue reading "Agile Learning meetups in London "