Saluting the Placard London Headphone festival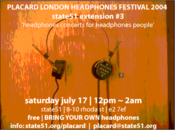 I'm just back from the 02004 Placard Headphone festival. Attendance seemed to be up on last year's festival which is a just and gratifying reward for the organisers who make nothing from this free event. As I write, there's still nearly 4 of the 14 hours left, and 11 of the 39 artists to perform to a silent room where the audience sits on the floor listening on headphones.
This is one of the things I love about living in the east of London: being able to drop in on the stuff that people like [no.signal] (Eric) and yaxu (Alex) put on in their own un-showy but determined and persistent way. Thanks.
Posted by David Jennings in section(s) Cultural Calendar, Events on 17 July 02004 | TrackBack