Quantity not quality: a year's worth of CDs and where they came from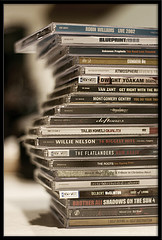 I don't make a big deal about New Year's Resolutions, at least not in public. But I do aim to buy progressively fewer CDs each year. Five years ago, in 02001 and 02002, my 'habit' almost got out of hand: I was buying over 150 CDs a year. That's three a week; too many to digest the new acquisitions, let alone have time to enjoy the old albums in my collection. So I've been cutting down. Not that I'm withdrawing my patriotic (or whatever) support for the music industry, you understand. I spend much more on live music these days (as previously documented), and, since September, I've been signed up on eMusic's 40-tracks-for-£8.99 package — itself a good rationing discipline. I just don't want too many more CDs and records, thanks.
So for 02006 my records (unreliable but not drastically so) tell me I'm down to 68 new CDs and records. That's my lowest figure since 01999. However, I don't think the year-by-year comparison is a direct one any more, since I acquire CDs in different ways these days. I bought just 19 of the 68 myself from physical or online retailers; a few years ago the vast majority would have come via that route. Where did the others come from?
Well, I bought 11 of them either at gigs or direct from artist web sites — no middle man. That's my favourite way of buying: if someone plays a good gig, it's like giving them a tip, with the added bonus that you get a memento to keep as a result. I got at least 18 CDs as 'covermounts' with magazines I subscribe to (The Wire, Word and Music Week). I say 'at least' because that's where my records are most unreliable: I often 'lose' covermount CDs. And the final 20 CDs were gifts of some kind: 4 won in radio competitions, 2 'promotional' gifts, and the remainder were presents from friends and family who know that CDs are a fairly safe bet for me. I'm trying to wean them off that habit, too.
Conclusion: the role of CDs is declining as valued objects in themselves, and growing as a token in a wider transaction (a relationship with performers, a subscription, a gift).
Resolution: I'm aiming to accelerate this trend by buying a larger proportion of CDs and records direct from performers and fewer from retailers. I tell myself I'll be paying for them all on some form of subscription in a few years anyway, so why pay extra for them now, when I'm not short of stuff to listen to?
Posted by David Jennings in section(s) Cultural Calendar on 30 December 02006 | TrackBack