Review of Mark Abis: Changing Inside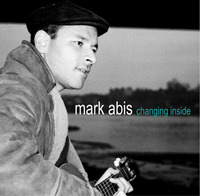 Several months ago, on the back of my review of Joe Boyd's book, I was contacted by singer-songwriter Mark Abis, of whom (Mark explained) Boyd had said, "[He] got my attention. His melodies are original, his voice warm and distinctive, a real musical sensibility is obvious, with literate lyrics to boot. My vote for one of the best of the new generation." Mark asked if I'd like a copy of his CD, Changing Inside, to review. On the understanding that any review would get no further than this blog (not an especially promising outlet for breaking new music), I agreed.
Joe Boyd is not an easy person to impress. He describes how he used to receive many demos from people citing Nick Drake as an influence (Boyd was Drake's producer), most of which he chucked into a box marked "WPSEs" — white people singing in English — for missing the point about what made Drake special. But part of the reason it's taken me so long to get round to writing this review is that Changing Inside isn't an album that reaches out and grabs you. You have to go and meet it on its own terms.
According to iTunes, I've listened to the album nine times on my iPod, and I'd guess about half as many times again on my CD player. I still can't hear For a Woman's Love without thinking of Tangled Up In Blue as it might have been written and sung by Al Stewart (which is either naff or cool, depending on your politics). Elsewhere I heard elements of John Wesley Harding (the singer, not the song), and Lucy mentioned Paul Simon.
Lyrically the album rarely departs from the classic concerns of singer-songwriters, featuring objects of unrequited love who just need a good honest man like me. Literate they may be — as Boyd puts it — but occasionally the rhymes tread perilously close to cliché. Dream Come True is a particular culprit: at every mention of a 'notion', you just know an 'ocean' is not far away. The song doesn't go as far as rhyming 'moon' with 'june', but with 'tune' and 'gloom' instead.
I get the impression this is an old-fashioned album of two sides. The first half comprises older songs going back as far as 01995 in the case of the opener, Summerbreeze, a song which Emiliana Torrini covered on her first album.
I think the second half (with newer songs, possibly recorded later?) is more interesting. The writing is perhaps even more subtle, but less derivative. With more personality of their own, the songs don't evoke precedents and similar artists so readily. These later songs are also where the mysteriously-named Eg White — who engineered, mixed, and co-produced the whole album, as well as performing on most tracks and hosting the recording in his Shepherds Bush basement — comes into his own. Songs like Stronger than Desire and Already There have little bits of interference from treated guitars and keyboards. In the wrong hands, such effects can seem like aural clutter, but here they draw attention to the space in the songs rather than undermining it.
Such treatments may not confirm to Joe Boyd's blueprint for authentic, three-dimensional recording, this is the side of Mark Abis — the more mood-driven songs with arrangements that combine acoustics and electronics — that I'd like to hear more of.
Posted by David Jennings in section(s) Cultural Calendar, Reviews on 3 September 02006 | TrackBack